Just watched KR Movie 2010 Winter (Year End) in a local cinema theater.
仮面ライダー×仮面ライダー オーズ&ダブル feat.スカル MOVIE大戦CORE(コア)
"Kamen Rider x Kamen Rider OOO & W feat. Skull Movie Wars CORE"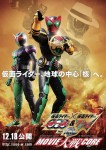 The 1st. Part is a movie about KR Skull.
The 2nd. Part is about KR OOO.
The 3rd. Part is about OOO and W.
The 1st. Part was very nice. Koji Kikkawa has become a good Ojisan actor.
The 2nd. Part was moderate. They introduced errhh.... a new combo and a new Rider. That's it.
The 3rd. Part was...... I don't remember.
(In my personal opinion, Kamen Riders should not fight giant enemies. Also Kamen Riders should not fight Kamen Riders. Kamen Riders enemy should be Kaijin, Supervillains or Evil Organizations. Ultraman should not fight Ultramen. Ultraman's enemy should be monsters or invader aliens.... In the same cinema theater complex, they were screening Ultraman Zero something. ... orz. I will download it via torrent later.)
Looking overall, thanks to Skull, this movie is interesting. OOO fans and W fans, be careful. You can see them but the lead character is Skull.
Seems in the 2nd Part, Toei made an on-location shoot in my working place. It made me distracted and uneasy.
So, please take it easy. (Too many familiar sights spoiled my concentration....) It's enjoyable.